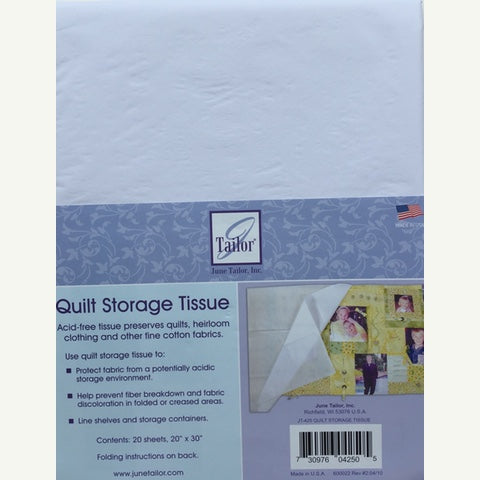 Sale
Quilt Storage Tissue
$ 6.35 $ 4.13
Vendor Various
Quilt Storage Tissue. Acid-free tissue preserves quilts, heirloom clothing and other fine cotton fabrics.
Package Contains 20 sheets of tissue
Measures: 20''x30'' each
Line shelves and storage containers.
Helps prevent fiber breakdown & fabric discoloration in folded or creased areas.
You might also like
Sale
$ 36.21 $ 23.54
Vendor Cozy Quilt Designs
The journey of 12 women, 1 blog & improvisational projects Let go of "the rules" with 12 fun, funky, and improvisational projects in this book. Includes the fundamental techniques-from fabric selection to quilt tops to binding. Projects are perfect for both beginner snd experienced quilters! Quilting mavericks Alissa and Kristen chronicle their year-long "virtual" quilting bee. Twelve chapters (one for each month) showcase the designs of today's leading modern quilters along with easy-to-...
Sale
$ 34.94 $ 22.71
Vendor Cozy Quilt Designs
16 Iconic quilt designers create with Kona solids. A fresh selection of bold and beautiful quilts in both modern and traditional styles. Experiment with precision piecing, improvisational quilting, or applique. Includes an index to Kaufman colors so you can match the exact fabric for each pattern. Compiled by Susanne Woods Softcover 8" x 10" 143 pages
Sale
$ 26.05 $ 16.93
Vendor Cozy Quilt Designs
  Planning, tips and ideas for the passionate sewist! Inside this book you will be treated with the illustrations and content of "The Workbasket" magazine from it's coolest years: the 1940s. During this time the magazine featred fabulous illustrations of women in dresses, as well as inspirational "Women Who Make Cents" stories and great sewing content. The best of this material, as well as worksheets and charts, are here to help you track your sewing projects and inspire you to get sewing! S...